Everything in life is somewhere else, and you get there in a car.
In America, cars represent freedom and individuality—you don't get much more American than that! But cars also represent responsibility. We have to drive safely, maintain our vehicles, and make sure we have insurance that helps pay for any mistakes we make. And boy, do we make mistakes—in 2021, according to NSC.org, 5.4 million people were hurt in car crashes! If you want to hit the open road, don't do it until you make sure you've got the right amount of protection.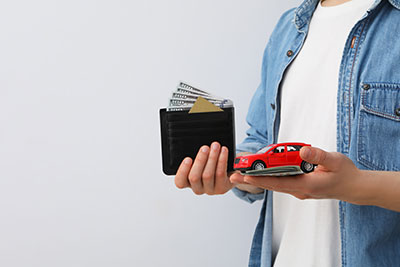 Auto insurance is a type of insurance policy that protects you and your vehicle against loss, theft, damage, and more. The losses covered by your policy depend on the carrier and coverage you select. Every state requires you to have some auto insurance.
Whether you primp, pimp, trick out, murder out, or otherwise customize your ride, one thing remains the same: it costs money. Protect your investment with an auto insurance policy.
---
Can you guys get me a great deal on car insurance?
Trusted Quote is one of the top insurance brokers in the nation. We have offices all across the country, with experienced agents who can help get you the best rates.
Of course, your driving record and zip code affect your rates, but we'll do our best to get them as low as possible. We'll shop the market so you don't have to! After all, you have better things to do, right? (Please say "yes.")
We can bring you a comprehensive list of car insurance providers, including Progressive, The Hartford, Safeco, Metlife, 21st Century, Allied, and more. Plus, you can save up to 15% when you buy home insurance along with your auto policy.
---
What kinds of things does an auto insurance policy cover?
Auto insurance consists of different types of coverage: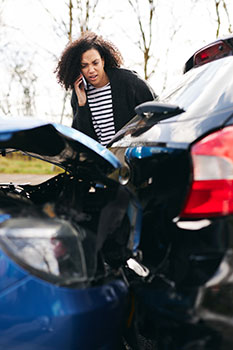 Liability

This part of your policy covers you if you're in an accident and you're responsible. Your insurer pays for the damage that you cause, including injuries to the other driver(s), passenger(s), and their property. It will also pay for damage to property that doesn't belong to you or the other driver, such as a sign or a pole. It can also pay for legal costs that arise if you are taken to court. You probably already have some form of liability coverage since most states require it by law.

Medical

This part covers the medical expenses of anyone in your car who is hurt when you're in an accident. You're covered and your passengers are covered.

Uninsured motorist/Underinsured motorist

This is an important component of your policy since so many drivers either break the law and drive without insurance (bad!) or carry the legal minimums that won't completely pay for the damages and medical costs that arise as a result of an accident. If you're worried about the other driver's ability to pay for your car, belongings, and medical costs relating to an accident, this type of insurance provides extra security for you.

Collision

This pays for the repairs your car needs if you're in an accident. Not all accidents are covered, though, so be sure you know the limits of your policy.

Comprehensive

This pays for damage to your car that isn't related to an accident. If you routinely part outside a baseball field or near a driving range, for example, comprehensive coverage can help pay to replace broken windows. Storms, thieves, animals, and vandals can wreak havoc on cars, and this is the part of your policy that keeps the damage from coming out of your pocket.

Personal Injury

If you choose, you can add this coverage to your policy to help you pay for expenses that happen if you're injured in an accident. It can help replace the income you lose when you're hospitalized, disabled, or in recovery from your accident.
---
But I already have the legal minimum. What more do I need?
The legal minimums usually only involve liability coverage. Take a look at the other types of coverage listed above. They cover lots of things that aren't covered by basic liability. In other words, if you buy only the government-mandated minimum, you are not covered for these other types of situations:
If someone breaks into your car and steals your stereo, you'll have to pay for all repairs.
If a hailstorm damages the windows and roof of your car, you'll have to pay for all repairs.
If a ticked-off ex keys your car, you'll have to pay for all repairs.
If someone dents your car in a parking garage, you'll have to pay for all repairs.
---
I can't afford more insurance. Why should I increase my coverage?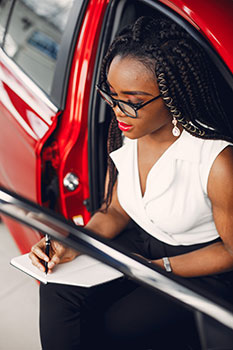 If you think you can't afford more insurance, imagine trying to pay to repair or replace your vehicle.
Here are a few estimated costs for common accidents:
Hitting a deer: $1,000
Engine replacement: $2,000-$5,000
Repairing a keyed car: $500-$2,000
6 mph front full crash: $4,594 (Volkswagen Passat)
6 mph front corner crash: $2,061 (Chrysler Sebring)
6 mph rear full crash: $3,114 (Nissan Altima)
6 mph rear corner crash: $1,824 (Volkswagen Jetta)
If you don't have that kind of money laying around, consider more insurance. It's better to pay a small amount now than a huge amount later.
---
What options do I have to add services to my policy?
If you choose, you can buy coverage for things like:
Personal injury

If you're hurt in an accident, who pays the bills for child care or medical expenses while you're hurt and can't work? This type of insurance gives you cash to help get you through your accident recovery period.

Rental car reimbursement

After an accident, your car is probably going to need some work. While it's in the shop, how will you get to the office? Is there good public transit where you live? If not, this coverage pays for the cost of a rental car while your own vehicle is in the shop.

Stereo systems

If your stereo cost more than most other people's cars, you need to protect it. If it's taken by thieves or crunched in an accident, this will pay for a replacement.

Towing

Get money to help pay for towing and roadside assistance programs. If you don't have AAA, this is a great way to make sure you don't end up walking down a long, creepy road in the dark when there's a murderer on the loose just because you can't afford to call a tow truck. We've all seen that horror movie—trust us, you don't want to be in it.
---
Sources:
National Highway Traffic Safety Administration: Traffic Safety Facts
Autos.com: Average Car Collision Repair Cost When Hitting Wild Deer
Insurance Institute for Highway Safety: First Results of New Crash Tests